No results were found for the filter!
VWR Racingline R600 Turbo Inlet /Ansaugrohr für MQB 2.0 and 1.8 TSI mit EA888 Gen3,...
The Turbo 90 intake manifold from Volkswagen Racing provides an increased supply of air to the turbocharger and is the perfect complement to the VWR R600 Airbox. This large CNC-machined aluminum tube replaces the factory plastic tube...
HJS-Downpipe BMW 540i/640i/740i/840i/M340i xDrive, Z4 M40i, Toyota Supra, 3.0 - EURO 6d-TEMP, 300...
Pre-order now! Delivery time not yet known. This HJS tuning downpipe is designed for BMW M140i / M240i / 340i / 440i / 540i / 740i with Euro 6 B58 B30A engines. The catalyst developed by the HJS tuning experts has gone through all the...
ooono traffic alarm speed camera warning<br><br><strong>Important notice:</strong> This is an...
HOW IT WORKS ooono is a community-based device that warns you of speed cameras, road hazards and other traffic disruptions. THE ooonos FUNCTIONALITY Why choose a device like ooono when you can use other app solutions? The answer is...
PRO-TEC Triple X Plus Air Intake Cleaner, Intake Cleaner Petrol Engines, 375ml
PRO-TEC Triple X is an extremely powerful combination of active ingredients for cleaning the intake tract of petrol engines. Even strongly adhering, heavy deposits are removed without residue. Triple X cleans and lubricates the complete...
Downpipe VAG 1.8 - 2.0 TFSI / TSI all-wheel / 4WD, Golf 6R, Audi S3 8P, TTS 8J with HJS ECE...
In turbocharged engines, the downpipe is installed between the turbocharger and the exhaust system. Original downpipes are usually built in a rather small diameter. The worse the exhaust gas pressure can escape from the charger, the more...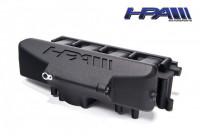 HPA 2.0 TFSI Ansaugbrücke Saugrohr TFSI/TSI EA113 EA888
HPA TFSI Ansaugbrücke Saugrohr mit Drallklappen (Flappers) EA113
VWR Racingline Airbox/ Ansaugung R600 + Filter NEU!! B-Ware
The Racingline R600 intake offers the most advanced cold air supply for 3rd generation 2.0TSI engines. Compared to the original, the kit offers twice the filter area in an extra-large air filter box with two air inlets. This ensures an...
HPA 2.0 TFSI Intake Manifold Intake manifold with flaps EA113
HPA TFSI Ansaugbrücke Saugrohr mit Drallklappen (Flappers) EA113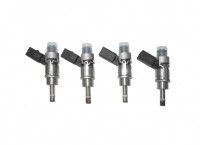 Injector complete set 2.0 TFSI (S3)
Audi S3 injectors, suitable for all VAG 2.0 TFSI engines. The nozzles can also be used after conversion to a K04 turbocharger (see accessories). The complete extraction of the power takes place with the help of the TurboPerformance...