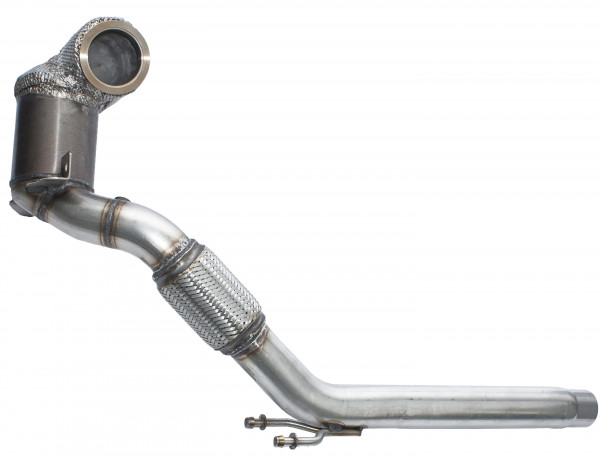 1,520.82€ *
1,689.80€ *
(10% Saved)
Prices incl. VAT plus shipping costs
1,278.00€ netto (price without VAT)
Delivery time 12 Workdays
Order number:

HJS-90951115-G7
HJS NO. DESCRIPTION ENGINE TYPE EURO-NORM 90 95 1115 Front tube 76 mm...
more
Product information "HJS downpipe VW Golf 7 GTI 220hp, 76mm, ECE approved, 90951115"
HJS NO.
DESCRIPTION
ENGINE TYPE
EURO-NORM
90 95 1115
Front tube 76 mm
CHHA / CHHB / CJSA / CJXA
CJXB / CJXC / CJXE / CJXH / CJXG / CXDA
Euro 6
HJS immediately achieves Euro 6 limits with 200 cpsi tuning catalysts!
The exhaust specialist HJS has developed a tuning catalytic converter for vehicles of the Volkswagen group Audi, Seat, Skoda, Volkswagen with the new 2.0 liter Euro 6 engine generation.
The turbo outlet pipe with 200 cpsi catalyst is completely made of stainless steel and provided with a thermal integral insulation.
The 76 mm diameter front tube provides more power of up to 12 KW and 20 NM and can be integrated into any standard or tuning exhaust system without further modifications.
The 200 cpsi metal drivetrain reduces exhaust backpressure by up to 40% and thus has a positive effect on the engine's response, especially at higher engine speeds. In contrast to the ceramic monoliths that are installed in the production vehicle, in addition to the performance advantages also results in a much improved sound.
Suitable for:
MANUFACTURER
MODEL
KBA-TYPE
KW
Audi
A3 III 1.8 FSI
8 v
132 **
Seat
Leon III 1.8 FSI
5 F
132 **
Leon III Cupra / R 2.0 FSI
5 F
195/206
Leon III Cupra 290
5 F
213
Leon III Cupra 300
5 F
221
Skoda
Octavia III 1.8 TFSI
5 E
132 **
Octavia III 2.0 FSI
5 E
162
Octavia III 2.0 TFSI
16V RS
5 E
169
Superb 2.0
3T (3V)
162
VW
Golf VII GTI 2.0 FSI
AU
162/169
Golf VII GTI 2.0 FSI
Clubsport
AU
195
Golf VII GTI 2.0 FSI
Clubsport S
AU
228
Passat FSI 2.0
3C
162
** Adapter piece is required for mounting 90 60 5732 (76 to 60mm) // 90 60 5531 (70 to 60mm)
Advantages:
just like original part (also to the original exhaust system)
ECE approval ( registration free )
Two 200 CPSI Tuning Catalysts from HJS
Exhaust-proof high-performance Flexst ck
Ideally suited for chip tuning as a basis for earlier performance levels
Made in Germany
Motorsport tested
Maximum durability
30 years of know-how
HJS nameplate with ECE approval no.
Technology check:
low exhaust back pressure
fast discharge of the exhaust gases
lower exhaust gas temperature; protects the engine, loader and crane
streamlined optimized
better response of the turbocharger
Power increase up to 12 kW (16 hp)
Soundplus up to 2 dB
Plug and play
EOBD tested


Delivery :

1 downpipe with 200cpsi sports catalyst
1 reduction 76/65 mm
2 screw clamps (68.5mm and 78.5mm)
Important notice: This is an automatic translation. Please note that only the original german description is valid for a legally purchase agreement.
Related links to "HJS downpipe VW Golf 7 GTI 220hp, 76mm, ECE approved, 90951115"